---
V piatok 29. 11. 2019 o 19:00 v Hoteli Grand**** Jasná.
---
… when love overcomes the freezing point
Trochu svérázná svobodná matka, úspěšná majitelka biokavárny Helena (Anna Polívková), odjíždí na popud své tety Ely (Jana Krausová) s nadšeným osmiletým synkem Mikulášem strávit advent na horách, aby se tak vyhla svému citovému problému. Díky své roztržitosti a hře osudu se ocitá na vysokohorské chatě Samota, kde samotářský horal Richard (Martin Dejdar) provozuje adrenalinové sporty, žije tu se svou malou dcerkou Zuzou a živelným bratrem Mišem (Marek Němec), uznávaným členem horské služby, milovníkem žen a zábavy. Tahle nesourodá partička se ve sněhem zapadané Samotě rozhodně nenudí. A to Helena ještě netuší, že její starostlivá milující matka (Jana Preissová) donutí protestujícího otce (Bolek Polívka), aby vyrazili na hory za nimi. Jsou Vánoce a rodina musí být přece pohromadě!
From filming
The film was shot in beautiful and rough locations in the High and Low Tatras.
The main venue of the story is the Jasná resort and Chopok Mt in the Low Tatras.
The filming was very adventurous. Weather, rather natural elements, did what they wanted with the crew. The blizzard alternated with the blue sky, which was immediately covered with fog. Our actors had the difficult task of showing great sports creations on the local ski slopes and doublers in the amazing freeride couloirs.
Luckily, they were rewarded after filming - actors and the entire crew were served great mixed drinks in the Crystal Bar.
Our Grand Hotel in Jasná, where the crew stayed for almost the entire course of the filming, served as a background. During that time, actors had only a few moments to rest and they said they perfectly charged their energy in the wellness area.
The filming took place also in the High Tatras where the crew stayed in the stylish Grand Hotel Praha. There the crew envied the hotel guests their time spending relaxing, because after filming mostly everyone just fell into bed to get up early morning to a frosty and snowy day to get other shots.
A parish priest from the local church promised the director nice weather for filming, and it was really fulfilled at Chopok Mt!"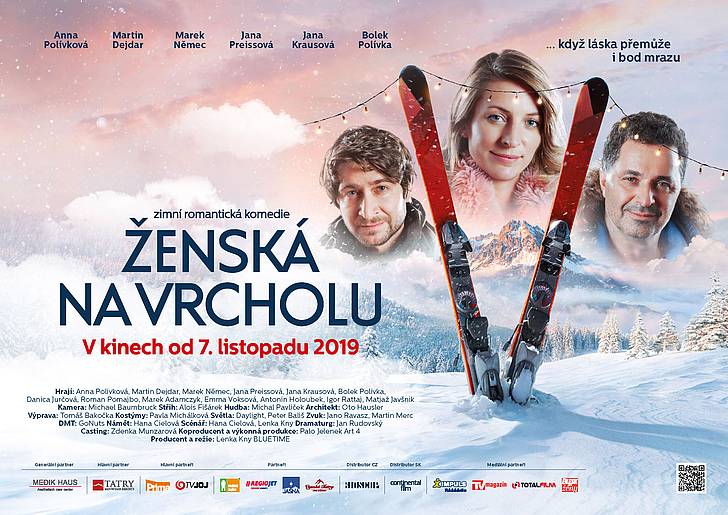 ---