Jasná Nízke Tatry, as the largest ski area in Slovakia and the top free ride resort in Central Europe with excellent conditions for winter sports, offers endless possibilities for activities, entertainment and active leisure on northern and southern slopes of Mt. Chopok. Apart from 49 km perfectly maintained ski slopes of various difficulties Jasná is a sought-after resort for wide possibilities of free riding.
Free ride lovers come into their own in several free ride zones and a great snow park. By development of cableways running from the northern hillside (A1 Funitel) as well as the southern hillside (A2 Chopok Juh) an interconnection was created between the zones serving throughout the winter season. And thus the free ride became a more available alternative to skiing in Jasná.

The north and the south of Chopok are totally different in their nature. The advanced free riders mostly prefer steep mountain couloirs in the north, the beginners and dedicated free riders will appreciate powder plains in the south. Jasná has been definitely the largest and the best approachable free ride resort in Slovakia. The winter season lasts generally from the beginning of December to the end of April. The free ride area at Chopok is also a venue where the JASNA ADRENALIN FWQ international competition has been held and is listed in the Freeride World Tour Qualifier.
---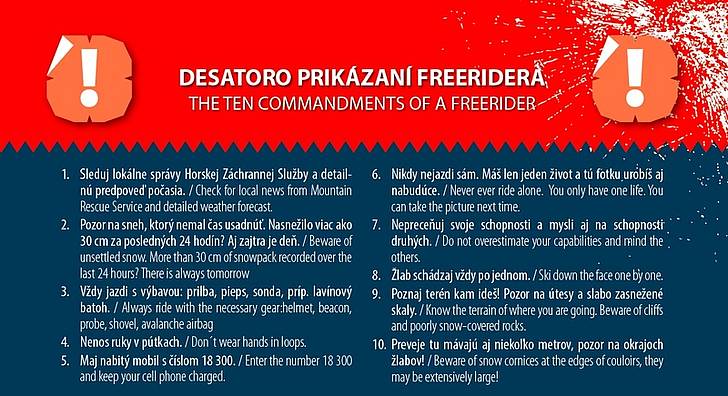 UŽITOČNÉ INFORMÁCIE A NOVINKY
LAVÍNOVÁ PREVENCIA
Aktuálny stupeň lavínového nebezpečenstva môžete zistiť:
V stredisku: elektronické zobrazovače na mapách na Bielej Púti, Grand Jet, Priehybe, Srdiečku, Krupovej, Chopku a na lavínovej tabuli na Chopku.
FREERIDE CENTRUM: lokalita Biela Púť
Mobilná aplikácia HZS
Web: www.hzs.sk
MOBILNÁ APLIKÁCIA HORSKÁ ZÁCHRANNÁ SLUŽBA
GPS lokalizácia užívateľa - upresňuje a urýchli príchod HZS.
Volanie na linku tiesňových volaní 18300 HZS a odosielanie tiesňových SMS správ s aktuálnou GPS pozíciou.
Čerstvé informácie o lavínovej situácii, výstrahách,poskytuje kontakty, užitočné rady aj krátky návod na poskytnutie prvej pomoci.
Svetlo a SOS svetlo.
KONTROLA LAVÍNOVÝCH VYHĽADÁVAČOV - LVS
Nový Checkpoint na kontrolu lavínových vyhľadávačov - LVS nájdete pod Chopkom v elektronickej mape (pred budovou Rotundy).
TATRY MOTION FREERIDE CENTRUM Biela Púť
HORSKÁ ZÁCHRANNÁ SLUŽBA
ntsever@hzs.sk
Nízke Tatry - sever
ntjuh@hzs.sk
Nízke Tatry - juh, Tále
+421/44/559 16 78
Nízke Tatry - sever
+421/48/619 53 26
Nízke Tatry - juh, Tále
+421/44/559 16 37
STRED. LAVÍNOVEJ PREVENCIE
+421 903 624 130
STRED. LAVÍNOVEJ PREVENCIE
slp@hzs.sk
STRED. LAVÍNOVEJ PREVENCIE
LETECKÁ ZÁCHRANNÁ ZDRAVOTNÁ SLUŽBA Air - Transport Europe
MEDICAL CENTRUM BIELA PÚŤ