Open from 1st of July 2023.
We look forward to seeing you in the summer season 2023!
---
Place: Krupová - Kosodrevina
Operating time: SAT - SUN, 10. - 11. sept., 15. - 18. sept.
Opening hours: 10:00 - 14:30
Phone contact: +421 911 85 63 91
E-mail: infocentrum.krupova@jasna.sk
Mountain carts are amusing and easy to control. They are ideal for all age groups, from children aged 12 to pensioners. When riding, two brakes help control the speed, which guarantees simple and safe mastering of curves and other difficulties on the track.
Jasná offers mountain cart rides with a vertical drop of 400 metres and panoramic views of the beautiful Horehronie region. Simply fun for everybody!
Mountain cart rides are divided in various levels of difficulties. A medium level track can be found on the southern side of Mt Chopok leading from Kosodrevina to Krupová.
---
---
start - Kosodrevina, finish - Krupová
a 2,600 m mountain terrain track
for visitors aged over 12; for children under 15 years only if accompanied by an adult
a medium level track for adrenalin and mountain enthusiasts
INFORMATION CENTRE KRUPOVÁ → infocentrum.krupova@jasna.sk; +421 911 85 63 91
---
Enjoy the unrepeatable time while riding a mountain cart from Kosodrevina to Krupová.
| MOUNTAIN CARTS JASNÁ PRICE LIST | Cashdesk adult | Cashdesk adult with discount |
| --- | --- | --- |
| 1 ride south: Kosodrevina - Krupová | 16€ | 16€ |
| return ticket + 1x mountain cart | 34€ | 33€ |
| 1 ride by cablecar A5 + 1x mountain cart | 21€ | 20€ |
| 2x ride by cablecar A5 + 2x mountain cart | 34€ | 33€ |
---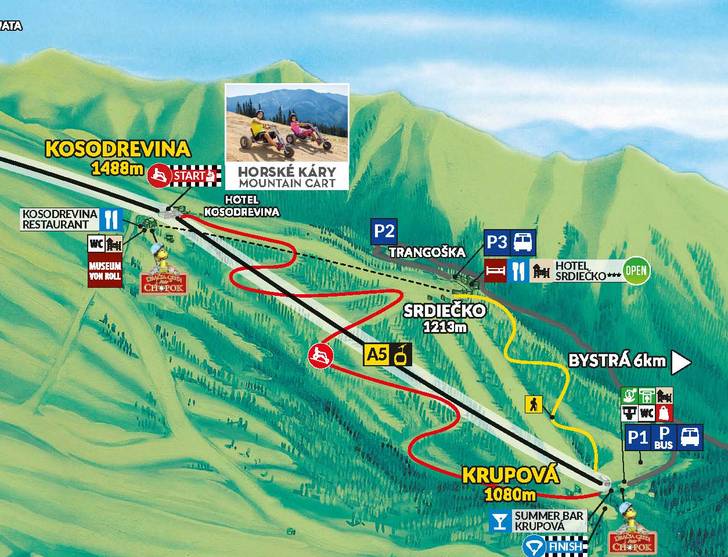 ---
---